Details
Our Platinum chrome towel radiator provides a high heat output due to its multiple 25mm bars.
More than just a towel warmer, this is a radiator that is available in both a straight or curved profile that will add an elegant touch to any bathroom.
Key Features
- Material: High quality steel
- Finish: Polished Chrome
- Tested to BS EN 442 standards.
- Supplied with all fixtures and fittings.
- Smart Elements, Non Thermostatic, Thermostatic or Timed Thermostatic Elements
Smart Non Thermostatic Element
Functionality : The Smart Non Thermostatic Element maintains a constant temperature of 65ºC. It has a small, simple controller and IP64 Ingress protection.
Intelligent Home Systems : This element is suitable for connection to external timers or intelligent home systems.
Safety : The element is equipped with double overheating protection.
Design : Controller encased in a small, round casing
Smart Thermostatic Element
Functionality : The smart thermostatic element offers five temperature settings from 30ºC to 65ºC. An electronic temperature sensor ensures precise temperature control. The device displays the temperature to which it is currently set, and indicates the status of the heating cycle.
Intelligent Home Systems : In the event of a power failure the heating devise remembers the most recent settings used, which makes it suitable for connection to external timers or intelligent home systems.
Safety : The element has an active safety feature which initiates in the event of dry radiator operation. The heating element is equipped with temperature sensor and thermal fuse (double overheating protection) and offers frost protection (Antifreeze). The element will display warning indicators in the case of malfunction.
Design : A heater with a straight cable, without a plug is supplied with cable masking cover.
Smart Timed Thermostatic including remote
- 5 step temperature regulation within 30-60ºC
- Drying function – heating power and time programming (1-4 hours)
- IPX5 protection class
- Antifreeze function – protects against radiator temperature falling below 5-7ºC
- Capability to cooperate with external timer or with intelligent home systems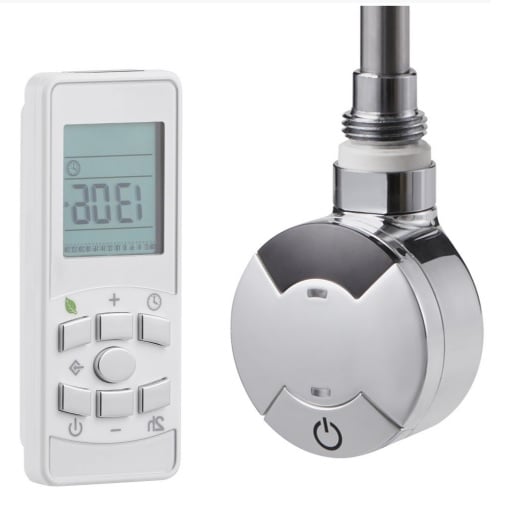 Product Code

Height (mm)
Width (mm)
Output (Watts)
ZTK0006401
600
400
160

ZTK0006451

600
450
180

ZTK0006501

600
500
200

ZTK0006601

600
600
240

ZTK0008401

800
400
223

ZTK0008451

800
450
251

ZTK0008501

800
500
280

ZTK0008601

800
600
336

ZTK0008751

800
750
422

ZTK0010401

1000
400
265

ZTK0010501

1000
500
332

ZTK0010601

1000
600
399

ZTK0012401

1200
400
307

ZTK0012451

1200
450
345

ZTK0012501

1200
500
384

ZTK0012601

1200
600
461

ZTK0014401

1400
400
370

ZTK0014451

1400
450
417

ZTK0014501

1400
500
464

ZTK0014601

1400
600
557

ZTK0014751

1400
750
698

ZTK00

16401
1600
400
422

ZTK0016451

1600
450
476

ZTK0016501

1600
500
530

ZTK0016601

1600
600
637

ZTK0018401

1800
400
485

ZTK0018451

1800
450
547

ZTK0018501

1800
500
609

ZTK0018601

1800
600
733

ZTK0018751

1800
750
919
Q. When will I receive my delivery?
A. The majority of items from CGS Stores web sites are delivered Next working day if ordered before 12.00PM. If something is time critical please call or email to check. You can also check in the description some items are delivered direct from the manufacturer or made to order and can take a longer.
Q. What warranty do I get with this item?
A. All products we sell come with at least 1 years warranty. Some can be as long as 10 years please check description.
Q. What size is it?
A. We have a technical tab please click on that it will give you dimensions, weight and more technical information
PRICE MATCH PROMISE
At CGS Stores our aim is to offer first class service and products at competitive prices.
We check our prices constantly to ensure we are unbeaten, however if you do manage to find it cheaper elsewhere we will price match. Please contact us.
Price Match Terms & Conditions
- The competitor's item must be identical (colour, size, output etc.) and offered on same terms
- The competitor's item must be in stock at the time of match
- The price matched is the total including VAT and delivery
- UK competitor's only
- The competitors price must be advertised online and cannot include any discount
- Excludes items from auction sites such as eBay and Amazon
Here at CGS Stores we offer a 14 day return policy.
You may cancel your order prior to dispatch or within 14 days of delivery. Notification of cancellation must be in writing, you can do this here. You cannot cancel your order via telephone. (This is in accordance with the Distance Selling Regulations 2000).
If you choose to cancel your order you are responsible for the cost of returning the goods back to us, unless we have delivered the goods to you in error. All items must be returned undamaged, in their original packaging and in a re-saleable condition. We ask that the goods are returned within 14 days of your return request. If you fail to return the goods, we reserve the right to charge for the cost of collection and you are legally obliged to make them freely available for collection. Returned goods may also incur a re-stocking fee depending on the item.
Once we receive the goods back they will be inspected, if they are in an acceptable condition we will process your refund. Your refund will be done promptly and certainly within 30 days. Your refund will be done according to your method of payment.